Weather & Marine forecasting services
We provide forecasting services for any location, area and route around the world. We specialise in setting up customised domains offering high resolution forecasts of ocean and coastal conditions to provide detailed information for offshore facilities and along routes.
All of the forecast products are distributed through e-mail and a web interface, in a user friendly graphical format and as text files.
Standard forecast service includes:
Site specific forecasts of wind, waves and currents including 2D wave spectra
Rain, temperature, visibility, thunderstorm forecasts
Tidal predictions
User-specific weather hazard forecasts and alerts
Tropical cyclone tracks
Lightning observations and proximity alerts
Animated forecast map overlays showing precipitation and pressure (MSLP), winds, wave height, wave period, visibility, surface currents and temperatures
Satellite cloud map overlays (colour enhanced, IR cloud & visible)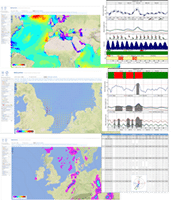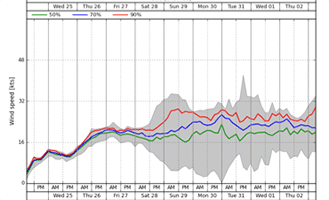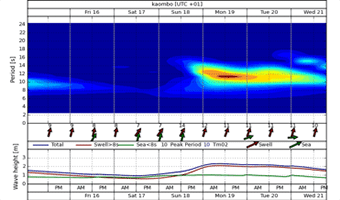 Additional services (project based)
24/7 forecast support
Route forecasts – ship routing and route analysis
Ensemble forecasts – to provide information about the forecast uncertainty
Coastal location forecasts – accounting for shallow water effects
Detailed site-specific current information – providing current information at different depths
Motion forecast – forecasting the heave, pitch and roll of a vessel
Emergency Response Interface – Oil spill trajectory, or other emergency trajectory forecasting.